back
<<
Christmas appeal 2020
2020 was a particularly difficult year. We as a society have faced unprecedented challenges from the coronavirus pandemic. Not only have businesses and various industries suffered – so, too, have individuals and our community.
To support those among us who are particularly suffering under the pandemic, the CPM Group has decided to dispense with sending out Christmas cards this year. Instead, the money saved will be donated to a charitable organisation. This year we are supporting the "Corona emergency aid" project run by Diakonisches Werk Hochtaunus.
"Many food banks, lunch counters, clothing stores and railway station missions had to be temporarily closed in spring. With the aid of numerous donations, we have been able to continue providing regular assistance in other forms for some 27,000 particularly hard-hit people in the Diakonie Hessen area." ~ Diakonie Hessen

We are delighted to have been able to make a contribution for people who have been plunged into need by the crisis. On behalf of the CPM Group, Managing Director Johann-Hinrich Nagel handed over a cheque for €2,600 to Diakonie Hochtaunus on December 2, 2020. Our staff were also involved in the donation.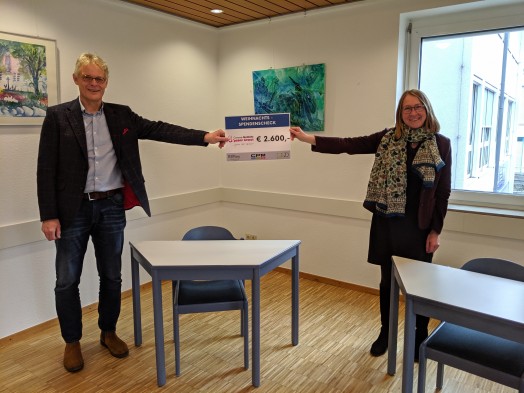 "We are absolutely delighted to be able to support Diakonie Hochtaunus with a donation of €2,600 and are very thankful for the day-to-day work they perform in the fight against poverty. Huge thanks also to our workforce for their contributions to the donation." ~ Johann-Hinrich Nagel